Interior Office Graphics
Welcome to One Four Design, your premier destination for stunning interior office graphics that transform your workspace into an inspiring and visually captivating environment. From glass manifestations to window graphics and digital printed wallpapers, we offer a wide range of solutions to enhance the aesthetics and functionality of your office space.
What are the different types of interior Office graphics?

Glass Manifestations: Our glass manifestations are an excellent way to add privacy, safety, and branding elements to your office's glass surfaces. Whether it's frosted designs, logos, or intricate patterns, our skilled designers can create custom manifestations that align with your brand identity and vision. These manifestations not only serve as decorative features but also comply with safety regulations by making glass surfaces more visible, preventing accidents.
Window Graphics: Make a lasting impression with vibrant and eye-catching window graphics. Whether you want to showcase your products, promote special offers, or enhance your brand's visibility, our window graphics are the perfect solution. Using high-quality materials and advanced printing techniques, we create visually striking graphics that command attention and attract potential customers. From simple logos and text to full-color designs, we'll transform your windows into captivating marketing displays.
Digital Printed Wallpapers: Create a truly immersive environment with our custom digital printed wallpapers. Whether you're looking to add a touch of elegance, create a branded experience, or bring your walls to life with stunning visuals, our digital printed wallpapers are the ideal choice. With our state-of-the-art printing technology, we can reproduce intricate designs, vibrant colors, and high-resolution images that transform your office walls into captivating focal points. From inspiring quotes to nature-inspired scenes, the possibilities are endless.
What are the benefits of Interior Office Graphics?
1. Branding and Identity: Interior office graphics provide an opportunity to reinforce your brand identity and create a cohesive visual experience for employees and visitors. Consistent branding elements across glass manifestations, window graphics, and digital wallpapers establish a professional and memorable impression.
2. Aesthetics and Inspiration: Well-designed graphics enhance the aesthetics of your office space and contribute to a positive work environment. Engaging visuals, inspiring quotes, or nature-inspired scenes can boost employee morale, creativity, and productivity.
3. Privacy and Safety: Glass manifestations not only add an element of privacy but also comply with safety regulations by making glass surfaces more visible, preventing accidental collisions. They strike the right balance between functionality and aesthetics.
4. Marketing and Promotions: Window graphics serve as a powerful marketing tool, capturing the attention of passersby and promoting your products, services, or special offers. They transform your windows into attractive displays that entice potential customers and drive foot traffic.
5. Customisation and Flexibility: With interior office graphics, you have the freedom to customize designs according to your specific needs and preferences. Our team will work closely with you to understand your goals and create unique graphics that align with your brand and vision.
Contact One Four Design today to discuss your interior office graphic needs.

Let us help you transform your office space into a visually stunning and engaging environment that reflects your brand, inspires employees, and leaves a lasting impression on visitors.
Interested? Get In touch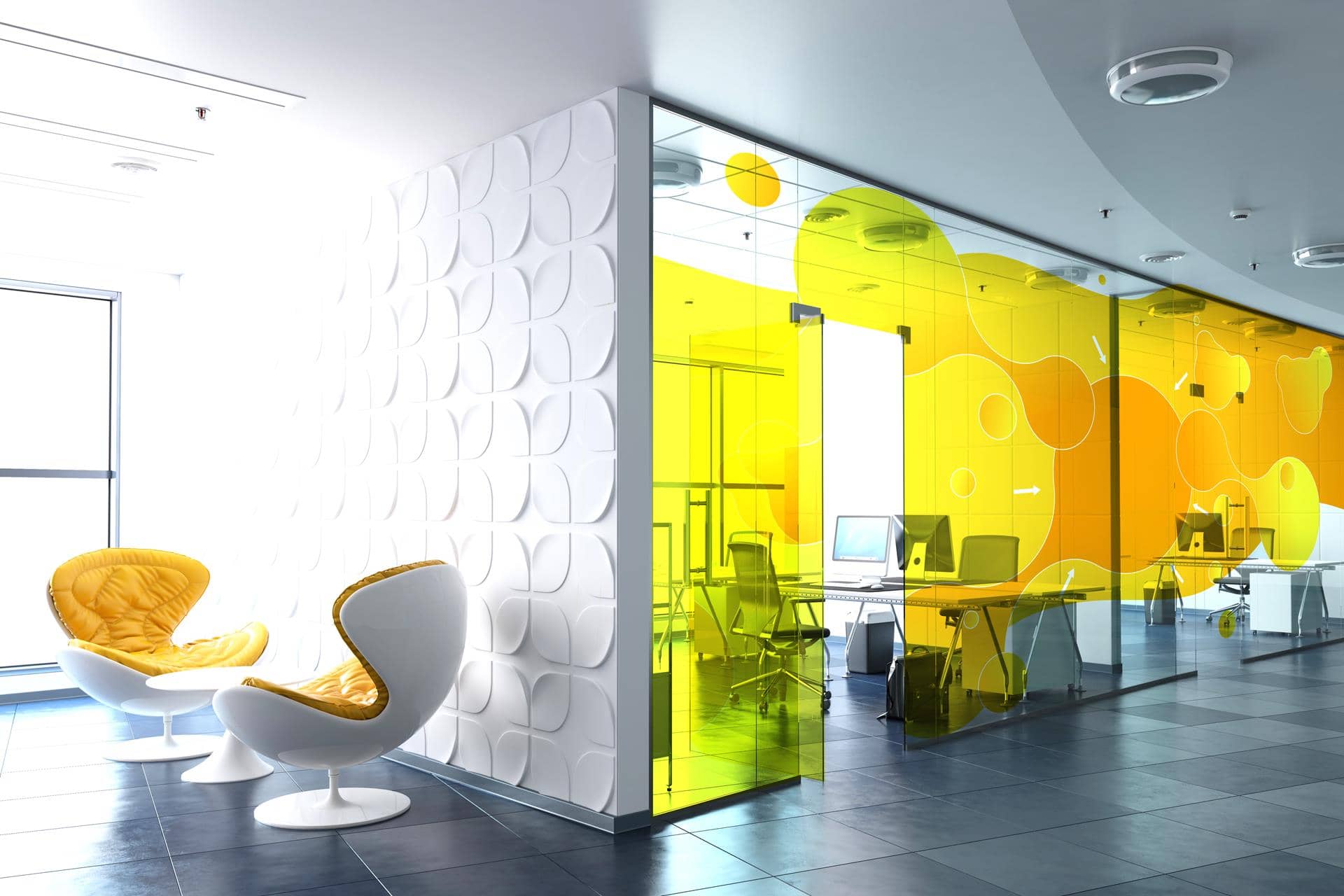 We create ideas as unique as you
Contact us today to discuss your ideas – we'd love to hear from you.
get in touch with us